Coleco ADAM computer supplies from
The ADAM NEWS NETWORK
Ever wondered how nice it would be to have 100 ADAM disks of any size in 1 storage media, like stacking music cd's in a cd player? Or how nice it would be to add or subtract new programs from that storage device easily? Or how nice it would be to get what you wanted off the internet to put on that device, as well as copy in your own programs on that storage device?
NOW, you have that choice with the Virtual ADAM Disk Drive (VDD) from MicroFox Technologies. The VDD comes complete with the drive, removable microSD card holding all those disks, a power supply, and an ADAMnet cable to plug into the ADAM. The VDD's microSD card can be interchanged with other microSD cards for data storage or other programming for the ADAM. Because the programming is in ADAMemulator format, the internet is a treasure trove of material, programs and games which can be added to the microSD card as simply as copying them.
NEW! MicroFox Virtual ADAM Disk Drive $130 + shipping
Pictures below further EXPLAIN & SHOW the Virtual ADAM Disk Drive and how it works; as well has pictures of the operation. Following from left to right; click each photo to enlarge it for viewing; click the photo again to further enlarge it. Installing the Virtual Disk Drive is a simple plug in operation and allows virtually unlimited storage space, along with a lot of space for ADAM programs, games, and data. The Virtual Disk Drive uses ADAMnet protocal; plugs directly into the ADAM side port or existing disk drive; is selectable for disk drive 1 or 2; and holds up to 100 "disks" in ADAMemulator format. The user can add or delete "disks" or partitions using a laptop, an sd card reader and ADAMem. It is truly an ADAM peripheral in that it is "plug and play" storage for the ADAM. (You MUST use a power strip to turn on ALL of ADAM peripherals at the same time in order to avoid potential damage to any of the ADAM electronics. )
Click on a photo to enlarge it for viewing.
Also available is the hard drive option - compact flash card media in 100mg w/ 40 partition's (directories); a cartridge to boot the super fast cf system; new 256k memory expanders; new parallel printer/memory addressor cards with onboard eprom to boot the cf system, as well as most of the original Coleco ADAM supplies and parts. Some items may be for reference only and not available at any given time, so check with us to see if we have it in stock. We also have lots of software, PD and originals in copied form. You will find it under the ADAM software for sale link.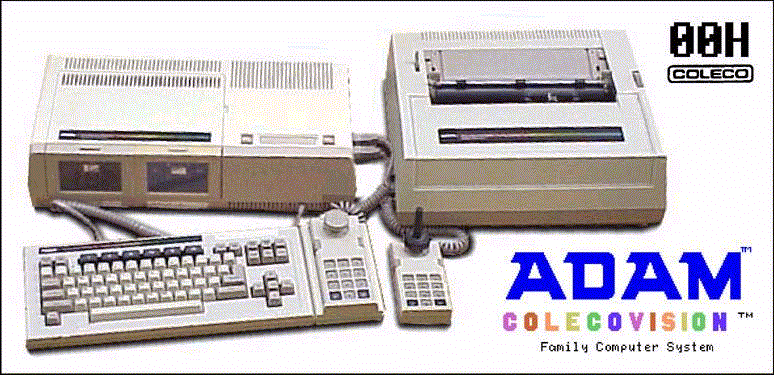 ADAM 300 Baud Modem $30 + shipping
ADAM Printer Printwheel $5 + shipping
ADAM Data Packs $6 used; $9 new + shipping
ADAM Printer Ribbon $12 + shipping
ADAM Printer Ribbon Refill $5 + shipping
MicroFox's IDE "hard drive" card (card only) $50 + shipping
MicroFox's PRINTER CARD w/onboard eprom to autoboot IDE system $50 + shipping.
Acts as addressor to access memory above 64k on the NEW MicroFox Technologies 256k card.
COMPLETE 100mb IDE package includes the IDE card, ribbon cable, power supply, compact flash adapter, 2 ADAM formatted cards w/ 40 EOS partitions & 4 TDOS (CP/M) partitions, and either disk or data pack boot media for $80 plus shipping costs. You supply your own standard cpu power cord.
Upgrade your original 60mb cf system with 2 new cards and a new adapter for $20 plus shipping.
picture of actual IDE hd screen; files on the 60mb card & files on the 100mb cf card
256k ADAM Memory Sipp for E&T Memory Card $10 + shipping
MicroFox 256k ADAM Memory Card (works as 64k w/o printer or addressor card) $50 + shipping
MicroFox 512k ADAM Memory Card (works as 64k w/o printer or addressor card) $75 + shipping
A 256k expander has 36 file entries when used as a ramdrive, a 512k expander has 64 file entries as a ramdrive
MicroFox's ADDRESSOR ONLY CARD to use when there is no printer card in the ADAM $25 + shipping.
ADAM Printer Reset "Silencer" Adapter $20 + shipping
Make that annoying printer reset disappear every time you pull the reset switch
ADAM Game Switch (original) $3 + shipping
The pictures below further EXPLAIN & SHOW how the IDE interface is installed; and shows pictures of the installation and operation. Following from left to right; click each photo to enlarge it for viewing; click the photo again to further enlarge it. Installing the IDE storage device gives the user an virtually unlimited amount of space for games, programs, and data. The IDE cf media has a 2 sec access speed and uses a simple 1k boot ddp or boot disk. That is about as fast as SmartWriter appears when ADAM is turned on. OR purchase the printer eprom card for an instantaneous boot up of the IDE media when the ADAM is turned on. (You MUST use power strip to turn on ALL of ADAM peripherals at the same time)
1. IDE interface card; 2. Printer IDE boot card & eprom; 3. IDE accessory package; 4. IDE cf adapter rear view; 5. IDE cf system hooked together;
6. IDE cf system IN the ADAM computer; 7. IDE cf system 2nd picture; 8. Software to program the cf card; 9. Bootup screen of the IDE system;
10. Boot screen # 2 games partition; 11. Boot screen # 3 select game to play
ADAM Temple of the Snow Dragon - defeat the Dalark Dragon. You will venture thru the castle that the dragon is duty bound to protect; finding jewels, using keys and using weapons to defeat the evil dragon and free your royal princess. $15 + shipping (includes ADAM disk w/ game & instruction booklet) Rated A++
ADAM Bomb 2 - hands down the BEST game produced for the ADAM computer; you WILL love this game and literally take weeks or more to conquer it. 180 rooms to explore; collect crystals, pick up bombs to use, discover people who need something in return for objects you can find and then trade them. Find keys, boots, and other objects to use in the game. $15 + shipping (includes ADAM disk w/ game & map, instructions and hints) Rated A++++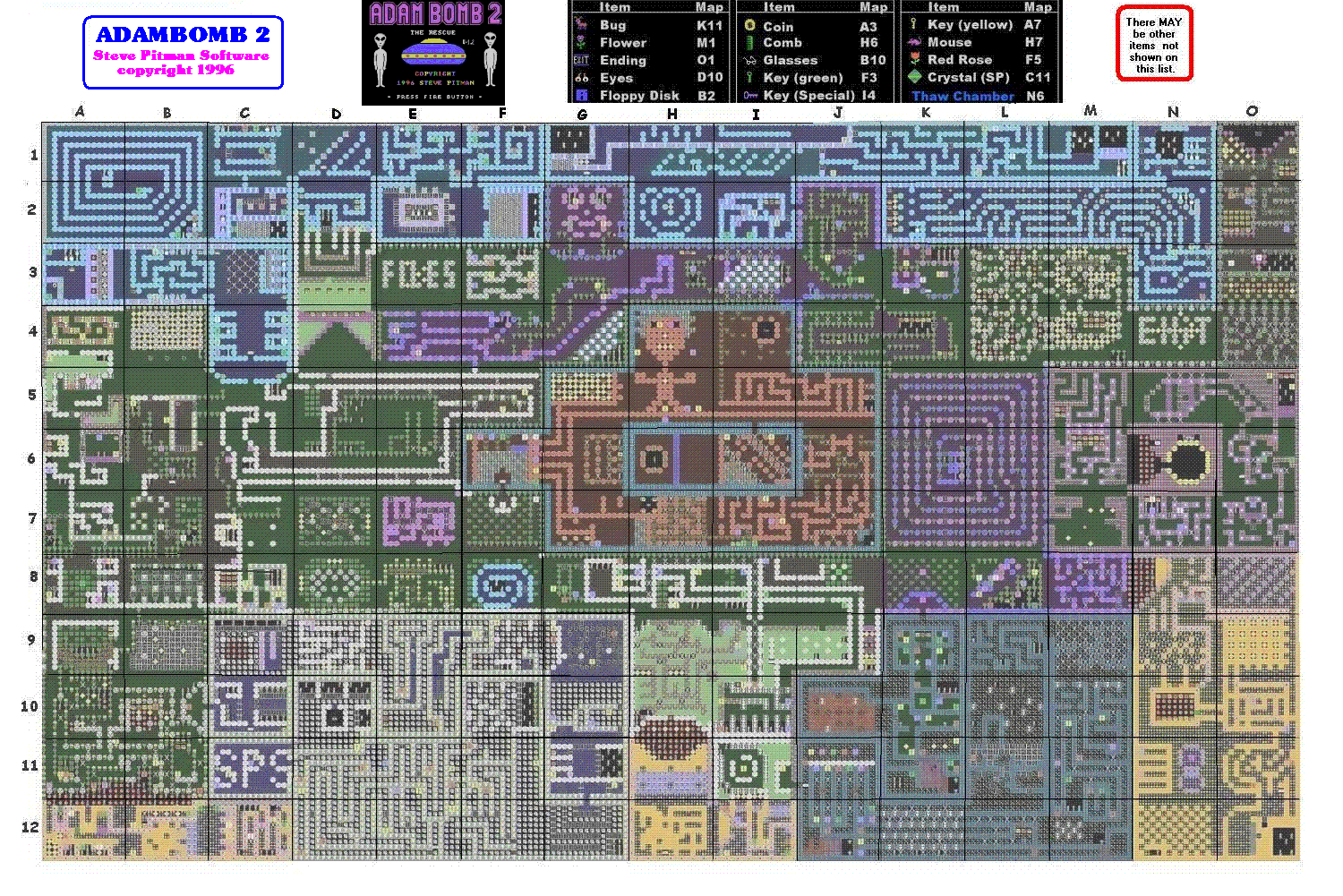 Email us: rslopsema@gmail.com